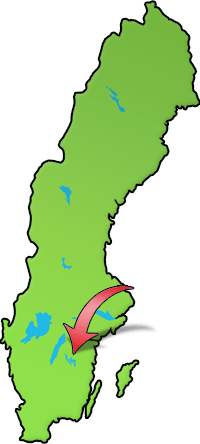 Sommen is situated at the border of Östergötland and Småland with the main part of the lake located in Östergötland.

The largest towns close to the lake are Tranås, Boxholm, Sommen, Malexander, Torpa, Asby and Norra Vi. In general, the lake's surroundings is sparsely inhabited wooden landscape.
Characteristics of the lake
The rocky and mountainous landscape has given the lake its irregular shape with numerous bays and islands. Sommen has over 300 islands and there is an old saying that there should be 365 islands, one for every day of the year. The largest island is Torpön. Most of the islands are mountainous and rocky, and so are the beaches around the lake.
Water quality
Sommen is known for its clear, nutrient-poor water, which in good conditions has a visual depth of 8-10 meters (26-32 feet)

The biggest measured depth is 53 m, but unofficial tests have shown depths of over 60 meters. The average depth of the lake is 17 m (56 feet)

For the current water level, see Tekniska Verken
Animal life
The lake is rich in species and is home to 22 species of fish. By far, the most worthy of protection is the great char and the sea trout. These also have the highest priority for fish area conservation efforts. The birdlife around the lake is rich and there several osprey couples nesting here.
Facts
Altitude over the sea level
146,3 meter (Approx)
Variation
145,6 – 147,1 meters
Surface area
13 204 hectar
Shoreline
449 340 m
Islands
Approx 260 islands
Drainage basin
1 782 km2
Tributaries
Svartån, Bulsjöån and other brooks
Fish species
22 
West basin, lake Tranås, etc

Average depth
14 meter
Max depth
53 meter
Average time for water renewal
1,5 years
East basin, lake Malexander, etc

Average depth
18 meter
Max depth
53 meter
Average time for water renewal
11 years